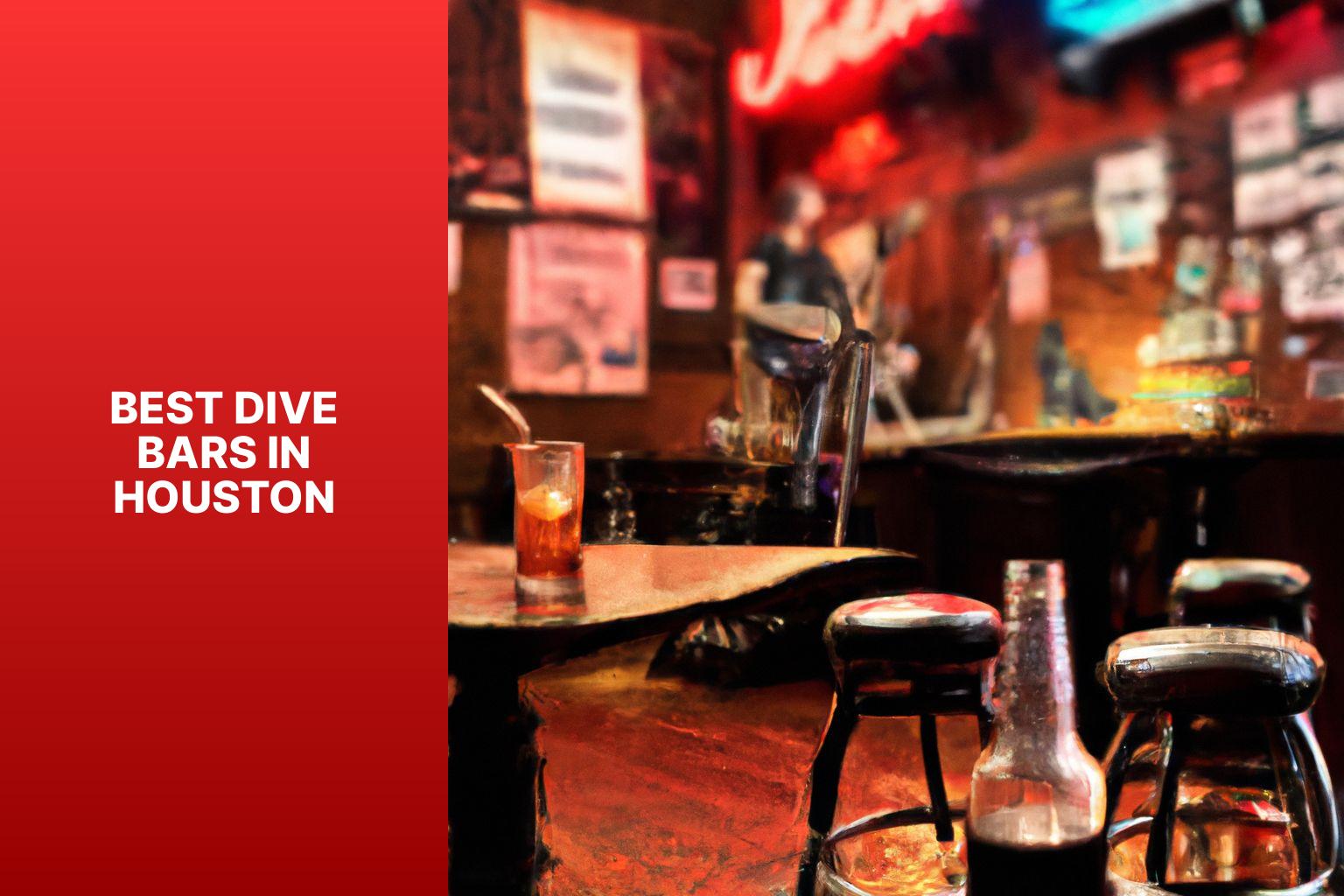 In Houston, the exciting city renowned for its exciting nightlife, there's a lot of dive bars. These local spots attract people looking for a break from their daily life. The pleasant atmosphere and cheap drinks make them especially cherished by locals and visitors.
Enter any dive bar and you'll be taken to another time. The dim lighting, classic decor, and jukebox tunes add to their appeal. Friendly bartenders will provide classic drinks and local craft beers for all tastes. Whether alone or with friends, socializing is easy in this environment.
What's special about Houston's dive bars is their varied clientele. From college students to professionals, artists to musicians – these places attract people from all walks of life. This mix creates an inviting ambiance, where conversations are effortless.
Houston has many remarkable dive bars. Poison Girl with its quirky decor, La Carafe in a historic building from 1847, or West Alabama Ice House with its big outdoor area. By exploring these secret locations, you'll learn about Houston's culture and community.
If you like new experiences and want to uncover the best of Houston's nightlife, visit some dive bars! Step out of your comfort zone and bask in the energy of these places. Whether you live here or are visiting, the dive bars of Houston are ready to welcome you. Get your friends and have an amazing time at the best dive bars in the city!
Criteria for the Best Dive Bars in Houston
Houston's dive bars are full of charm. To pick the best, certain criteria must be met. Here's a look at what makes them exceptional.
Ambiance: It should be gritty and unapologetic. A great dive bar celebrates its imperfections.
Drinks: Classic cocktails, beers, and highballs that won't break the bank.
Food: Pub fare with favorites like burgers, fries, and wings.
To help you picture it:
| Criteria | Description |
| --- | --- |
| Ambiance | Gritty, unapologetic atmosphere |
| Drink Selection | Affordable classic cocktails and beers |
| Food Offerings | Comforting pub food and late-night snacks |
Plus, these bars often have live music or open mic nights. You can even find some with fascinating histories. Take "Bar X," which has been around for over 50 years. It's full of stories, popular with locals and tourists.
So, whether you're looking for an authentic experience, affordable drinks, comfort food, or local history, Houston's dive bars have it all. So head out and explore the city's best dive bars!
Top 5 Dive Bars in Houston
Ready to explore Houston's best dive bars? Check out our top 5 picks!
Charlie's Bar: Cheap drinks & a friendly atmosphere – the perfect spot for a game of pool or just to grab a beer.
The Big Easy Social and Pleasure Club: Live music every night, focusing on blues and jazz. Enjoy signature Hurricanes while you dance the night away.
Shoeshine Charley's Big Top Lounge: Circus-themed decor and strong drinks – this place is guaranteed to be a hit.
Leon's Lounge: This historic dive bar has been serving drinks since 1947 – it's like stepping back in time.
La Carafe: This 1866 bar offers candlelit tables and an impressive selection of wine and spirits.
Dive bars are a great way to experience Houston's vibrant city limits. Gather your friends and set off on an unforgettable adventure – cheers!
Check Also BEST DIVE BARS IN AUSTIN
Conclusion
Dive into Houston's bar scene – full of unique spots. You'll find quaint neighborhood joints, hidden gems, and memorable experiences. In these places, a sense of community flows. Live music, friendly bartenders, and shared experiences create a refuge from the city. And each dive bar has its own charm. Quirky decorations, signature cocktails, and peculiar house rules bring intrigue. Whether you're looking for a time-trip or a taste of local culture, Houston's dive bars have something for everyone. Plus, they've weathered storms, literally and figuratively. They've been cultural landmarks for decades, bearing witness to stories and memories shared by generations. Dive bars are a part of Houston's fabric.
Frequently Asked Questions
Q: What are the best dive bars in Houston?
A: Some of the top dive bars in Houston include Lola's Depot, Poison Girl, Double Trouble Caffeine & Cocktails, The Maple Leaf Pub, Cecil's Pub, and Regulars.
Q: What makes a dive bar special?
A: Dive bars are known for their laid-back atmosphere, cheap drinks, and unpretentious vibe. They often have a local feel, friendly staff, and a diverse crowd, making them a favorite spot for many locals and tourists seeking an authentic experience.
Q: Are there live music performances at these dive bars?
A: Yes, some dive bars in Houston regularly feature live music performances by local bands and artists. The Maple Leaf Pub is particularly known for its live music events.
Q: Can I find good food at these dive bars?
A: While dive bars typically focus more on drinks than food, some of them offer tasty bar bites and pub grub. Lola's Depot, for example, serves delicious burgers and other comfort food.
Q: Are these dive bars budget-friendly?
A: Absolutely! Dive bars are known for their affordable prices, making them a great choice for those on a budget. You can enjoy a range of drinks without breaking the bank.
Q: Can I bring a group of friends to these dive bars?
A: Yes, dive bars are often welcoming to groups of friends. Some even have pool tables, jukeboxes, or other entertainment options that make them perfect for a fun night out with friends.
Read Also  The 30 BEST DIVE BARS IN TEXAS