Texas is the place to be for the best dive bars around! These hidden gems offer a unique experience to everyone. From Houston to the small towns, there's no shortage of bars. They have mismatched chairs, dim lighting and old memorabilia on the walls. The bartenders are super welcoming and the jukebox plays classic rock, country and local songs.
One dive bar in Austin stands out. Rumor has it famous musicians used to play gigs here before they were famous. Some locals claim they saw these artists creating music that would reach millions. It's more than cheap drinks – these bars contain a piece of Texas culture.
Criteria for selecting the best dive bars in Texas
Dive bars in Texas are renowned for their unique atmospheres and delicious drinks. To find the best ones, you must look for three criteria: authentic atmosphere, quality beverages at fair prices, and unique characteristics.
Authentic atmosphere is key! From vintage decor to dim lighting, these bars will take you back in time.
Quality drinks at fair prices are also a must. Signature cocktails and classic beers should all be available, with great value for money.
Finally, unique features and history are what set the best dive bars apart. Seek out hidden entrances, secret menus, live music and theme nights for an unforgettable experience.
For extra knowledge, don't forget to chat to locals and regulars, they'll have the insider tips you need to find the hidden gems!
The history and popularity of dive bars in Texas
Dive bars in Texas have a special charm, drawing locals and tourists alike. They provide solace from modern establishments. Patrons come to these humble walls for camaraderie.
The interiors are weathered and vintage. Walls are adorned with memorabilia, like taking a step back in time. Simplicity reigns supreme!
For an authentic Texan experience, explore these dive bars. "The Hole in the Wall" in Austin has live music and a friendly atmosphere. It offers a true taste of Austin's vibrant culture.
In Houston, visit "Shoeshine Charley's Big Top Lounge". It's eccentric, with circus-themed décor and lively entertainment. The drinks are strong and the ambiance is quirky.
Finally, "The White Horse" in Austin has a honky-tonk vibe. Dance to traditional country tunes and embrace the Texan spirit.
These dive bars offer more than drinks – they're a timeless experience. Step into one and be captivated by their magic!
         Here Are The 30 Best Drive Bar In Texas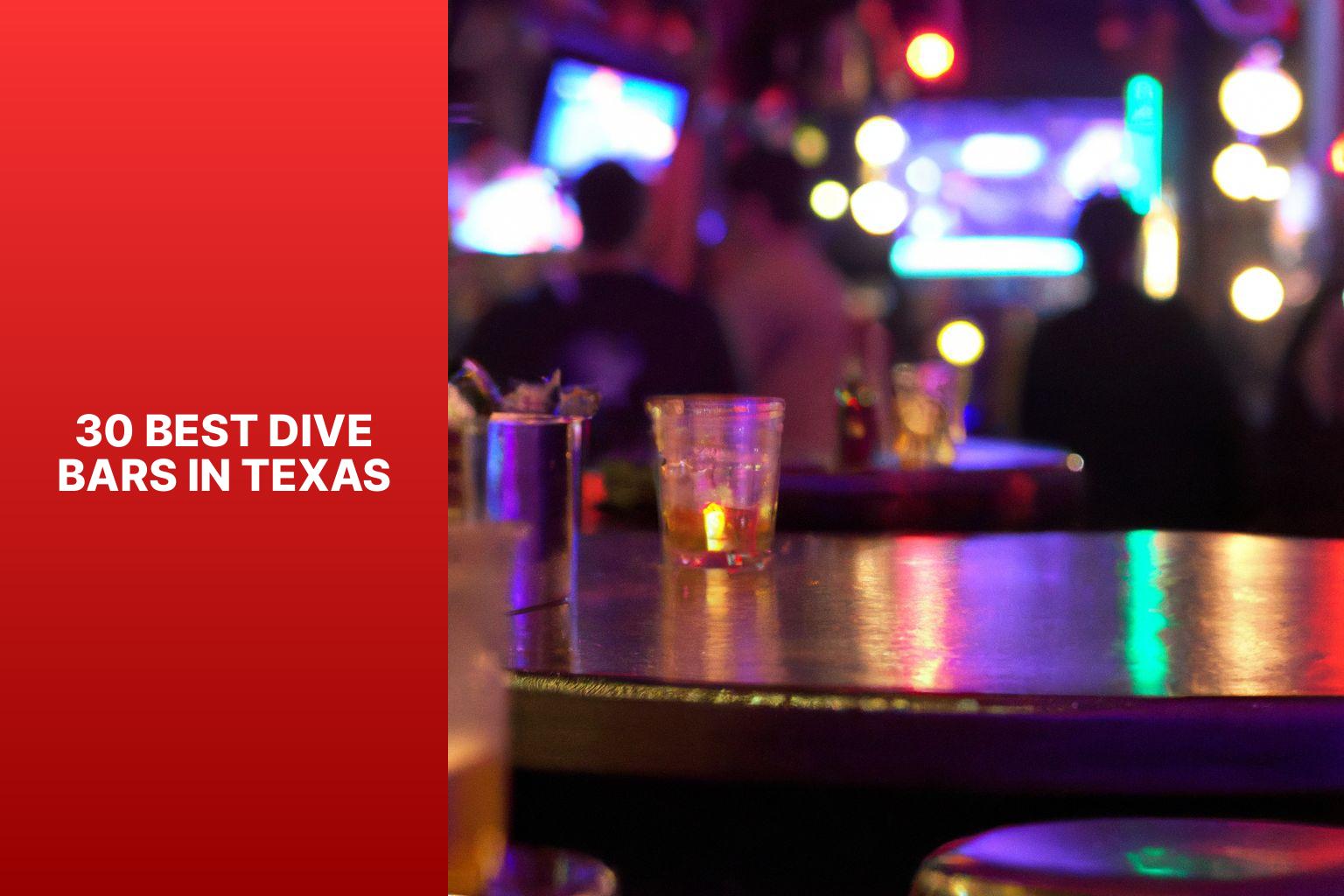 Texas has some of the best dive bars around. You'll find a relaxed vibe and lots of drinks. Here are the top 30!
| No. | Dive Bar | Location | Specialty/Unique Aspect |
| --- | --- | --- | --- |
| 1 | The White Horse | Austin | Honky-tonk atmosphere with live country music |
| 2 | The Broken Spoke | Austin | Legendary Texas dance hall and live country tunes |
| 3 | Deep Ellum | Dallas | Artsy neighborhood known for its vibrant street murals and eclectic venues |
| 4 | Lakewood Landing | Dallas | Known for its jukebox and late-night corn dogs |
| 5 | Lola's Saloon | Fort Worth | Live music and spacious patio |
| 6 | The Chat Room | Fort Worth | Eclectic crowd and pool tables |
| 7 | La Tuna Icehouse | San Antonio | Outdoor seating and a wide variety of craft beers |
| 8 | The Bang Bang Bar | San Antonio | 60s-style bar with vinyl nights |
| 9 | Poison Girl | Houston | Known for its pinball machines and eclectic decorations |
| 10 | Warren's Inn | Houston | Historic dive with stiff drinks |
| 11 | The Chuggin' Monk | Arlington | Friendly environment with multiple TV screens |
| 12 | The Tap Bar and Restaurant | El Paso | Diverse music scene and friendly atmosphere |
| 13 | Caves Lounge | Arlington | Outdoor patio and range of beers |
| 14 | Lee Harvey's | Dallas | Dog-friendly, outdoor fire pits |
| 15 | Lala's Little Nugget | Austin | Christmas-themed dive bar |
| 16 | The Liberty | Austin | Beer garden with live music and food trucks |
| 17 | Adair's Saloon | Dallas | Burger joint with a rustic feel |
| 18 | The Office | Lubbock | Casual setting with pool tables |
| 19 | The Continental Club | Houston | Iconic music venue featuring rock, country, and swing |
| 20 | Lowbrow | Houston | Art-forward space with a chill atmosphere |
| 21 | Double Wide Bar | Dallas | Trailer-themed bar with unique cocktails |
| 22 | Dixie Chicken | College Station | Iconic college bar known for its "Bottle Cap Alley" |
| 23 | The Old Quarter Acoustic Café | Galveston | Historic music venue hosting live performances |
| 24 | The Raven Tower | Houston | Elevated bar with panoramic views |
| 25 | Love Buzz | El Paso | Vintage arcade games and spacious patio |
| 26 | The Esquire Tavern | San Antonio | Longest wood bar top in Texas with river views |
| 27 | Mean Eyed Cat | Austin | Johnny Cash-themed bar |
| 28 | Notsuoh | Houston | Eclectic artsy bar with live performances |
| 29 | Shoeshine Charley's Big Top Lounge | Houston | Circus-themed bar with a laid-back vibe |
| 30 | Gruene Hall | New Braunfels | Texas' oldest dance hall with historic charm |
These bars offer something special. They have a timeless feel, taking you back in time. Plus, locals and tourists alike love them. They're cultural landmarks that show off the culture & nightlife of Texas. If you're in the area be sure to pay one (or several) of these dive bars a visit. They won't disappoint!
Conclusion
The exploration of 30 dive bars in Texas is complete! The Lone Star State has an awesome selection of amazing watering holes. From hidden gems in cities to rustic spots off the beaten path, each bar has its own personality. Texas really is a paradise for those looking for an authentic dive bar experience.
We explored the history and vibe of these beloved places. We learned about their pasts and the people who visit them. From decades-old spots to the newest ones, each dive bar had a different atmosphere.
Plus, we discovered some cool hidden details. The Broken Spoke in Austin is not just a dance hall, but also a major part of history. It hosted Willie Nelson and George Strait! The Rail Club Live in Fort Worth stands out because of its live music, featuring up-and-coming artists in a calm setting.
As they say, "Everything is bigger in Texas." This is true for dive bars too! With more than 30 options in this article, Texas is a must-go destination for a real taste of Texan nightlife.
Frequently Asked Questions
FAQ 1: What are the  best dive bars in Texas?
While tastes and preferences may vary, some popular dive bars in Texas worth checking out include The Broken Spoke in Austin, La Carafe in Houston, The Goat in Dallas, The White Horse in San Antonio, Ginny's Little Longhorn Saloon in Austin, and The Continental Club in Austin, among others.
FAQ 2: Are these dive bars suitable for all ages?
No, most dive bars in Texas are strictly for patrons who are 21 years or older. Due to their relaxed atmosphere, live music, and availability of alcoholic beverages, they are generally not family-friendly establishments.
FAQ 3: Can I find food at these dive bars?
While some dive bars may offer limited snack options, it is recommended to eat before visiting or make plans for a meal elsewhere. Dive bars primarily focus on serving drinks and providing a casual, laid-back ambiance rather than offering extensive food menus.
FAQ 4: Do these dive bars have live music?
Yes, many of the dive bars featured on the list are known for their live music performances. It's one of the defining features of a dive bar experience in Texas, where you can enjoy local bands and talented musicians showcasing their talent in an intimate setting.
FAQ 5: Are these dive bars cash-only?
While some dive bars may prefer cash payments, many also accept credit or debit cards for transactions. It's always wise to carry some cash with you, especially if you plan to visit smaller or older dive bars that may have limited card payment options.
FAQ 6: Can I expect a dress code at these dive bars?
Most dive bars in Texas have a casual dress code, allowing patrons to dress comfortably. You won't typically encounter strict dress requirements or formal attire expectations. However, it's best to avoid wearing overly formal or fancy clothes, as the atmosphere is often relaxed and laid-back.