Peach Cobbler Shot:
3/4 oz Western Son Peach vodka
1/2 oz Rumchata
1/4 oz Whipped vodka
Dash of Fireball
Shake and strain into a shot glass.
The Granite Run Taproom is perhaps a little more upscale than we'd normally cover, but you can't argue with a place that's "known as the Cheers of our little river front town." The building was built in 1815 and used as a hotel for nearly 100 years. Most of the riverfront town is made of granite that was mined from the town's cliffs in the 1800s and early 1900s–hence the name Granite Run Taproom!
Next time you're in Maryland, be sure to stop in here for a drink and some good food, and make sure you say hi to Morty the Moose for us!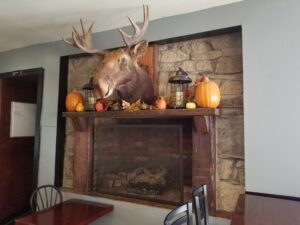 Address: 26 S Main St, Port Deposit, MD 21904