Searching for the top dive bars in New York City? Look no further! Here, you'll find a list of 20 dive bars throughout the city. From trendy locales to hidden gems, the city has plenty of these classic bars to explore.
Dive into the atmosphere and history of each of these joints. You'll learn unique details that haven't been mentioned before. Get ready to immerse yourself in a new world.
Let's uncover the history behind one particular dive bar. Years ago, it served as a refuge for artists and musicians. Its walls still hold secrets shared by famous patrons. It captures visitors with its nostalgia and relaxed ambiance.
Whether you're a local or just visiting, join us to explore these 20 bars. Prepare for laughter-filled, memorable nights in these iconic establishments. Let's raise a glass to the spirit of dive bars in the Big Apple!
Criteria for selecting the best dive bars in NYC
Choosing the top dive bars needs a careful look at lots of factors for an amazing time. From the atmosphere to the drinks, each piece matters for a unique and remarkable trip. Let's look at the standards that guide our selection process.
To judge the dive bars properly, we look at a thorough set of standards. Our examination centers around five primary elements, shown here in the table:
| Criteria | Description |
| --- | --- |
| Ambiance | Captivating atmosphere that immerses visitors in the genuine dive bar vibe |
| Drink Menu | A wide array of concoctions, catering to different tastes |
| Price Range | Affordable options for those seeking budget-friendly experiences |
| Customer Service | Friendly and knowledgeable staff who enhance the overall experience |
| Authenticity | Genuine dive bar style that exudes character and reflects local culture |
Although these criteria provide a great basis for our evaluation, we also look at additional aspects that make each dive bar one-of-a-kind. These unique features range from unusual décor choices to special events or themed nights. By discovering these special elements, we want to show the hidden gems within New York's vibrant dive bar scene.
Don't miss out on exploring these remarkable dive bars! Whether you're searching for a cozy spot to relax after work or an exciting place for a night out with friends, this list has it all. Begin an adventure full of yummy drinks, lively conversations, and remarkable memories. Come along as we tour through New York City's 20 best dive bars and enjoy their captivating charm.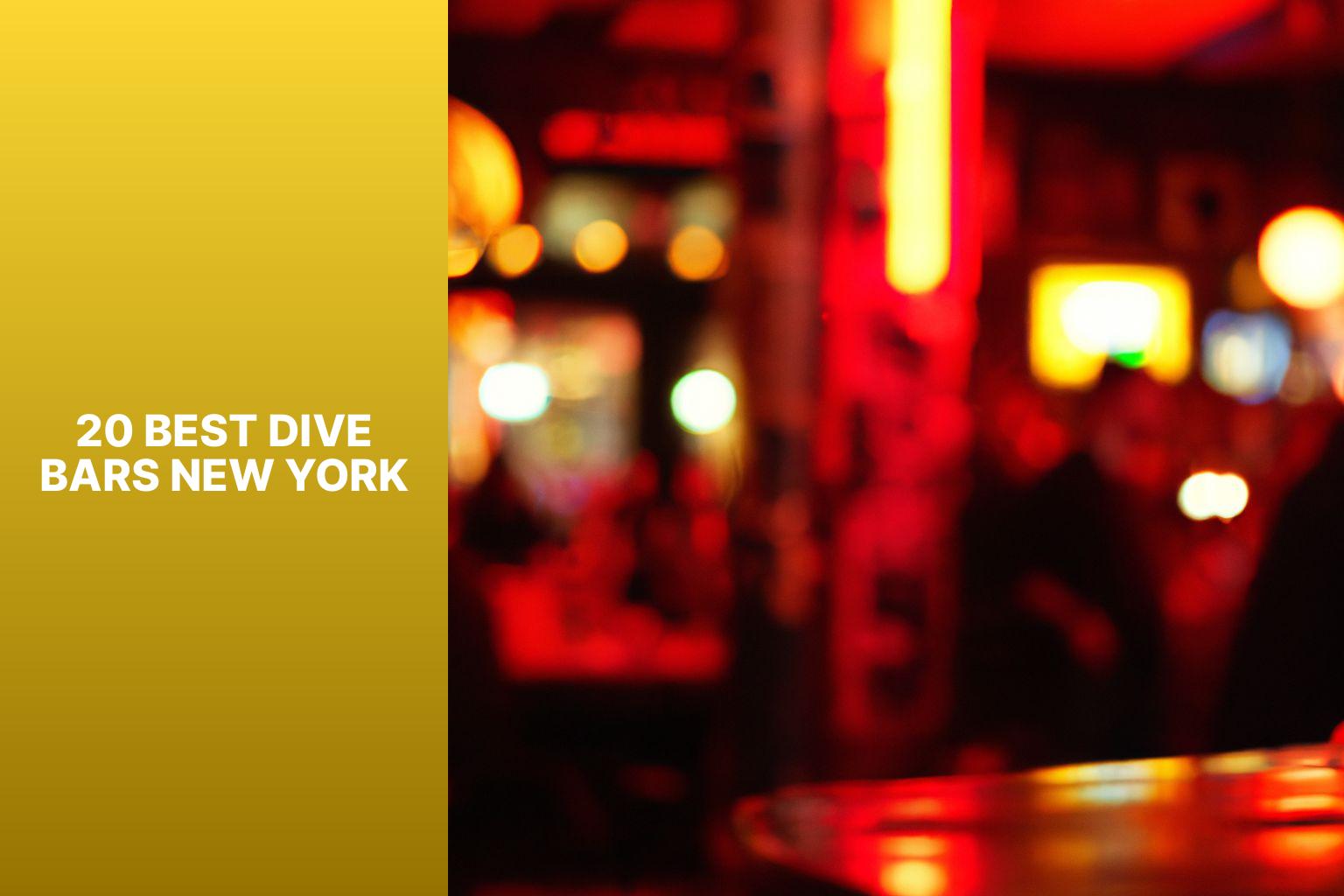 Top 20 Best dive bars in New York
| Bar Name | Specialty/Notable Feature |
| --- | --- |
| 1. Rudy's Bar & Grill | Free hot dogs with drink purchase. |
| 2. McSorley's Old Ale House | Only two types of ale: light and dark. Historical ambiance. |
| 3. The Subway Inn | Classic dive decor and old school jukebox. |
| 4. Lucy's | Pool table and a classic punk rock jukebox. |
| 5. Jimmy's Corner | Boxing memorabilia and affordable drinks. |
| 6. 169 Bar | Eclectic decor, oysters, and dance floor. |
| 7. Dive Bar | Large selection of beers and aquatic-themed decor. |
| 8. The Ear Inn | One of NYC's oldest bars with a rich history. |
| 9. Milano's Bar | Old school jukebox and historical ambiance. |
| 10. KGB Bar | Literary events and a Soviet-themed interior. |
| 11. The Horseshoe Bar (7B) | Historic location and featured in movies. |
| 12. Blue & Gold Tavern | Pool table and a selection of house-infused vodkas. |
| 13. The Levee | Board games, free cheese balls, and eclectic decor. |
| 14. Sophie's | Classic dive feel with a pool table. |
| 15. The Library | Book-themed decor and pool table. |
| 16. Donny Dirk's Resurrected Zombie Den | Zombie-themed and unique cocktails. |
| 17. Beauty Bar | A bar and salon in one; get a manicure with your martini. |
| 18. Welcome to the Johnsons | 70's living room feel and affordable drinks. |
| 19. Mars Bar | Known for its punk rock ethos and unique artwork. |
| 20. Turkey's Nest Tavern | Large beers and a local feel. |
Rudy's Bar & Grill: A beloved spot in the neighborhood. It's known for its cheap drinks and hot dogs.
Jimmy's Corner: This iconic boxing-themed bar is a favorite with locals and tourists.
Holiday Cocktail Lounge: Its vintage decor and classic cocktails give it an old-school cool vibe.
Goldie's Shoreline Casino: A dive bar with a jukebox, pool table, and friendly staff.
The Patriot Saloon: It's famous for its lively atmosphere, karaoke nights, and large beer selection.
Other notable places include The 12th Street Alehouse, Mars Bar, International Bar, Turkey's Nest Tavern, and Blue Ruin. Each of these dive bars has its own unique feel.
What sets these top dive bars apart is their ability to take you back in time. Dim lighting, vintage memorabilia – these places make you feel like you've stepped into a different era.
To understand what makes these bars special, you have to hear the stories within them. Take the example of a weary traveler who found Rudy's Bar & Grill after a long day. He was welcomed by friendly faces and lively conversations. As he enjoyed his beer at the bar, he felt a sense of belonging.
NYC's top 20 dive bars are more than just places for drinks. They embody a spirit that can only be found in these gritty corners of the city. So if you're seeking an authentic experience away from trendy lounges or speakeasies, venture into one of these dive bars and soak up the genuine New York spirit.
Conclusion
From NYC's streets to Brooklyn's corners, dive bars warm locals' and tourists' hearts. These gritty, unpretentious places offer relief from trendy bars and clubs. Exploring the best dive bars reveals they bring special charm and character to NYC's nightlife.
Venturing into these dive bars showed one thing – each had its own distinct personality. From vintage memorabilia to live local bands, there were no dull moments. Despite humble exteriors, dive bars showed an unforgettable energy and camaraderie. Each bar had its own loyal community, creating a warm welcome for visitors.
Countless dive bars spread across NYC neighborhoods, each with its own story. Some stand out for special offerings. For example, "The Slaughtered Lamb" has an extensive whiskey selection and cozy European pub ambiance. "Hank's Saloon" brings live music and soulful tunes, with locals gathering to revel.
Pro Tip: Go beyond glitzy spots and dive into NYC nightlife's heart. Immerse yourself in these gems to make genuine connections and create lifetime memories.
Frequently Asked Questions
1. What are the top dive bars in New York?
The top dive bars in New York include Rudy's Bar & Grill, Jimmy's Corner, Holiday Cocktail Lounge, Doc Holliday's, B-Side, and Niagara.
2. Are the dive bars in New York open late?
Yes, many dive bars in New York are open late. You can enjoy your drinks and have a good time into the early hours of the morning.
3. Do dive bars in New York serve food?
Some dive bars in New York serve food, while others may not. However, you can often find classic bar snacks like nachos, wings, and burgers in many dive bars.
4. Are dive bars in New York expensive?
Dive bars in New York are generally known for their affordability. While prices may vary, these bars usually offer cheaper drinks compared to more upscale establishments.
5. Can I find live music at dive bars in New York?
Yes, you can often find live music at dive bars in New York. Many dive bars feature local bands or musicians performing various genres of music.
6. Are dive bars in New York only for locals?
Dive bars in New York are enjoyed by both locals and tourists. They offer a laid-back and unpretentious atmosphere, welcoming people from all walks of life.
Check out also