The Zoo Bar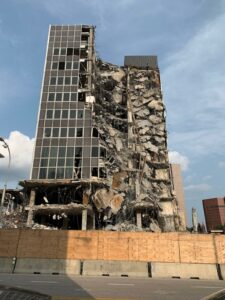 The Zoo Bar is a bit of a zoo (sorry, we had to!), but aren't most dive bars? We're excited that one of our crew got to experience this place in person!
This hole in the wall is in the heart of downtown Kansas City, Missouri—but it doesn't want to be found. There are no huge signs, just a simple PBR poster with the bar's name on it, and there are plenty of beer ads that make it look more like a liquor store. The view leaves something to be desired. Note the half-demolished building across the street. The phone number is out of service, and The Zoo Bar's Twitter hasn't been updated since 2016.
The place seats about 25 people and is very popular with locals, so they can take or leave fame and tourists. However, when they take them, the regulars are friendly and welcoming. Rumor has it the bartender is less friendly—one visitor claimed she was thrown out because her perfume was giving the barkeep a headache! However, the beer is cold and the drinks are good, and no one goes to dive bars for the stellar service.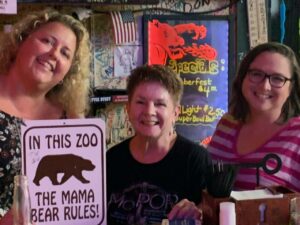 Don't you feel just a little extra special when you have to work for the bartender's affection, anyway? According to our inside man, it doesn't even take that much work: "You're a regular by the time you leave after your first visit."
Theresa, Marilyn a.k.a. "Mama Bear", Michia, and Cari all took excellent care of our tourist. One of them was in on her off time, "shit-faced" and having a ball on the opposite side of the bar. Annie and Ashley are two employees we didn't get to meet, but our guy did meet the self-appointed handyman. He's a man named Charlie who once passed out in the bar, got locked in, and was found by the opening bartender the next morning.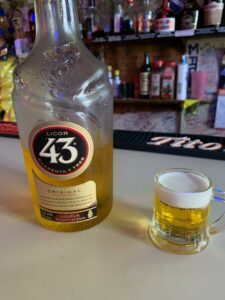 Want to hear a fun Charlie story? Of course you do! Once, the cooler lights went out, and he vowed to fix them. He got some Christmas lights, unplugged the cigarette machine (Yup, they've got a cigarette machine!), plugged in the lights, and jammed them in the cooler.
No one noticed the difference until they realized the cigarette machine was out of order.
If you're wondering what this place has on tap, we'll stop you right there: they have nothing on tap. This is the place to come if you want to feel like you're hanging out at a friend's house and they just took a brewski out of the cooler for you. They do offer something called a baby beer, which is Licor 43 with a float of heavy cream and $3.50 on special.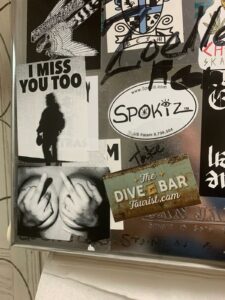 It's cash only, of course, and like many dive bars there is graffiti everywhere. Unlike most dive bars, this place fully supports the defacing. Ask for a sharpie. Leave your mark. We're not sure when this tradition started, but there is so much black ink on the walls it's easy to believe it was shortly after it opened in 1982.
One of the guys who opened it is still kicking and has an office above the bar, but unfortunately his partner, Ray Webb, passed away a few years after the bar opened. He dabbled in politics, and a reproduction of his campaign sign can be found behind the bar. It reads: "Perhaps you've heard of me."
There is no doubt the folks here at The Zoo Bar are as loyal to their regulars as their regulars are to them. A favorite patron passed away recently, and after his funeral they sang their signature bar song in his honor: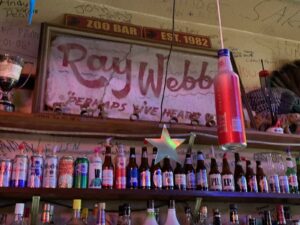 Here's to him, he's a damn fine whore!
Here's to him, he's a damn fine whore!
Always getting laid,
Never getting paid,
Here's to him, he's a damn fine whore!
We know fellow whores—er, dive bar enthusiasts—will feel right at home in The Zoo Bar. You'll leave happy and stumble back to your hotel room, just like our very own dive bar tourist did, knowing he had the privilege to experience the true heart of Kansas City.
Located in: Kansas City, Missouri
Be sure to try: a baby beer for just $3.50!