by Raquel P.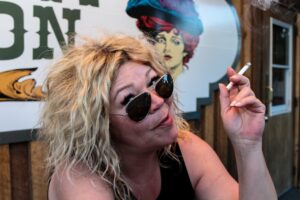 The Gateway Saloon is located in Vernal, Utah. Years ago, it was owned and operated by Brent Boren. In 2016, his spunky, vivacious daughter, Rebecca Boren, was able to purchase the Saloon, which made the patrons new and old extremely excited to see it back in the capable hands of the family. It is well known as a "biker, cowboy, and oilfield" bar. The logo (seen here behind Becca) was designed in honor of Becca's great grandma.

With amazing fundraising activities held year round, the biggest draw is the annual "Too Broke for Sturgis" held in memory of Mr. Boren. This year was the 23rd celebration, and it always includes events like a motorcycle poker run, bikini bike washes, and live music over the weekend. Becca provides free food to the "bar fam," as she lovingly calls her customers.

When tourists and business travelers come to Gateway, they are instantly made to feel like one of the locals by the staff and quickly become regulars while they are in town.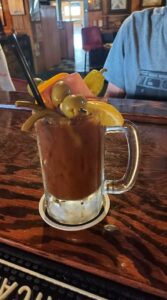 Each day comes with an activity, whether it be Monday for Ms. Kris' famous Gumbo, horseshoe/corn hole/dart/pool tournaments, karaoke, DJ dance parties, or—my personal favorite—"Sunday-Funday" for a mimosa or Bloody Mary bar. The drinks come with free snacks prepared by Shasta, the best of the best in bar tending!

Each bartender, bouncer, bar back, DJ, and even the local cabbies bring a unique personality that Becca fosters, striving to make each experience the best experience for her bar fam. Afternoons are best spent on the beautiful outdoor patio. Out here, you can find 21-year-olds enjoying smokes and drinks over jovial conversation with 80-year-olds, and the laughter drowns out the music from the jukebox.

The Gateway will always be a favorite watering hole for The Uinta Basin. Becca is a beaming ray of sunshine, and she and her bar provide happiness and love to the community no matter the circumstances she is facing.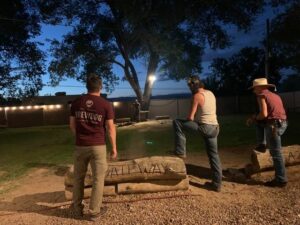 Editor's Note: Raquel wrote in about this place with so much information and so much love that we decided to keep her submission pretty much as is. We did a little of our own research, of course, and found that most drinks here are around $5, and sometimes you get to witness a little drama between friends since Vernal is such a small town.
Our take? Fun and family seem to sum up this little dive, and most people who visit have a great time. We can't wait to see it for ourselves.
Thanks again for writing in, Raquel!
Located in: Vernal, Utah
Be sure to try: the Sunday Bloody Mary bar!