Classic dive bars have long and illustrious histories, and Orpha's Lounge in Tulsa, Oklahoma is surely no exception. Good drinks, good times and good old stories (mostly fictional) are a big part of the Dive Bar Tourist experience. There should be a ride called that at Disney World, where you meet some fun locals, get drunk and get thrown off the ride at its conclusion followed by a one-day simulated hangover.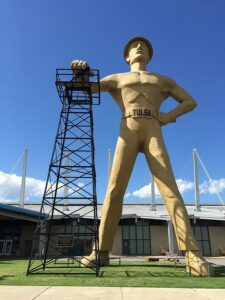 This is strictly a "beer and a shot" type of establishment with no food and two pool tables that take up most of the bar. Known for its creative cocktails, craft beers and pub games almost every night, Orpha's has been open continuously since 1948. At that time, Tulsa was known as the #1 oil producing city in the country. After drilling all day, oil workers would hit the place to unwind until they ran out of gas.
Close to the iconic Route 66, a lot of bikers cruise through town and make a point to hit Orpha's. The BOK Convention is also nearby, so concert goers will often visit the place before or after a show.
It's changed hands a few times over the decades, which happens a lot with dive bars. I read that in the nineties, the place was having problems with the locals fighting. Maybe Patrick Swayze came to town and cleaned the bar up, like in the movie Road House? Anyway, the only regular fights that happen there anymore are during the spirited trivia games or pool tournaments—and no fisticuffs.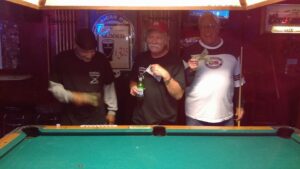 It's a friendly bar with a "warm and fuzzy" approach to customer service, featuring locals who love to meet out-of-towners before fleecing them at the pool tables. One review I read said that "the locals are friendly, but they also won't invade your personal space." (Unless requested, of course.)
If you want to see this dive bar in its full glory, go there on a Friday night. They have a great deal that the locals love: cash your paycheck there and get a free beer! I would bet that a lot of those checks were spent the same night they were cashed at Orpha's—ahh, but such is life.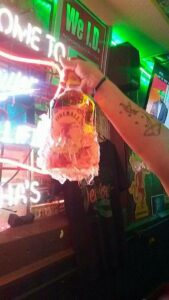 One thing to note: you can smoke at Orpha's, which is a big plus for those who can't drink without sucking on a few Pall Malls. There's a real hard-working but very fun group there. The bar has a mascot named Fred (a dachshund), an annual Halloween Party, and its jukebox has received five-star reviews for its eclectic collection of tunes from heavy metal to acoustic folk and a little country thrown in.
If you ever find yourself in Tulsa, you can write a song about it because many have, including "Back to Tulsa", "Going Out to Tulsa", "Halfway to Tulsa" and "The Devil Went On to Tulsa."
If Beelzebub himself is indeed there, he might be at Orpha's, so tell him hi next time you drop in. And buy him one of their legendary Fireball shots!
Located in: Tulsa, Oklahoma
Be sure to try: a Fireball shot