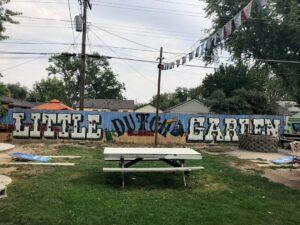 Little Dutch Garden in Boise, Idaho checks many of the boxes required for an establishment to qualify as a dive bar. First, this place is old (opened in the 1930s); it's in a neighborhood (residential not retail); and it has an iconic sign (in 6-ft. letters on a 30-ft. fence). In short, it possesses many of the traits that a Dive Bar Tourist will appreciate.
There are always plusses and minuses with any dive bar, and Little Dutch Garden does have a few shortcomings. They don't serve hard booze (beer only) or food, but they do have a BYOF policy. In fact, people bring animal protein to barbecue in the place's backyard all the time and are happy to share.
One of the coolest things about Little Dutch Garden is the backyard, which is a perfect spot to play when the weather is good. With a fire pit and highly competitive horseshoe and corn hole tournaments, being in the great outdoors here feels like "camping or going to a picnic."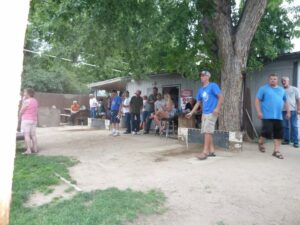 There is a laidback vibe at Little Dutch Garden, with two different fun and engaging crowds. During the day you will encounter local barflies and old salty dudes who look like Burgess Meredith. At night, when people want to unwind and turn up the volume, a whole new eclectic gaggle of hipsters, tricksters, spinsters and pranksters hit the premises in an emphatic way.
The bar's motto is "Illegitimi non carborundum" which is a mock-Latin aphorism that translates to "Don't let the bastards grind you down". It's good advice because all of us encounter grinders now and then.
At least they won't ever grind you on prices. It's a beer bar, so thank God Little Dutch Garden has a healthy selection and large inventory of macro drafts from mini breweries that will please any beer aficionado. Drafts are $2 and pitchers are $6. They feature Daily Happy Hours, 4-6 p.m., and a u-shaped bar that enables patrons to interact more easily.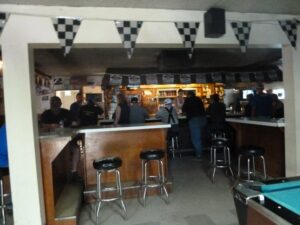 Reviews by patrons online describe the Little Dutch Garden's fun and friendly atmosphere. It's "a playground for adults who drink and like to be social", "A hole in the wall, but what a great wall", "it's like a house party all the time!"
If you like darts, pool (or "billiards" if you're really good at it), ping pong or Simon Says, you will fit right in at Little Dutch Garden. Prizes are mostly hard cash, so if you're good at any of these games, you might walk out richer than when you walked in.
If you're going to embark on any dive bar adventure, map your journey carefully and include Little Dutch Garden on your bucket list.
Located in: Boise, ID
Be sure to try: horseshoes and a cold one!