Hanson's Bar
Some dive bars tout themselves as the center of partying, but only Hanson's Bar in Robinson, North Dakota can truly say that they're located in the Geographical Center of North America. In continuous operation since 1936 (making it the oldest bar in the state!), Hanson's is located in a remote, tiny town where 37 people live, based on the last census. If you can get more than a dozen residents in the bar at one time, that's not just a crowd, it's also a quorum.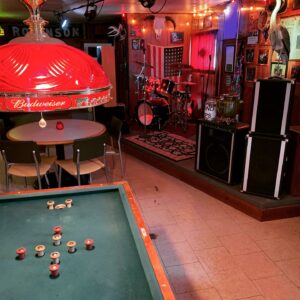 The building housing Hanson's looks like a shady in-law unit that was built back when you didn't need permits. The fun often spills out onto the sidewalk and surrounding areas since, let's face it, there's not much else going on in town.
With local bands like the Drunk Uncles and Violet Revival, Hanson's Bar has a stage big enough for a four-piece band (please hold the backup singers and the horn section). If you're looking for an intimate musical experience, this bar will provide it, because the patrons are literally two feet away from the stage. Other fun and unique events and promotions held at Hanson's Bar include their Annual Hot Sauce Eating Contest (aka the Swollen Colon Series); standup comedy; Chicken S—t Bingo and Morning Beers; Bar Trivia; and, of course, Karaoke.
A few years ago, the people of the town of Robinson legally sued Rugby, N.D. for claiming that it was the Geographical Center of North America and won after its trademark expired. It was even national news, featured in The Wall Street Journal. Now they feature a museum celebrating its centered situation, so that dive bar tourists can suck in some history before they start hitting Hanson's and sucking down local entertainment with shots and beers.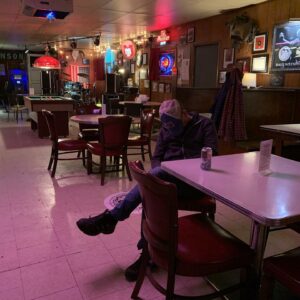 The patrons at Hanson's Bar are very loyal. We even got a message recently that said: "If you're making a list of dive bars and don't have this bar on your list, your list is crap." Some bars like to conceal the fact that they are dive-like, but this bar and its regular customers love the fact and celebrate it. The seedier the better, the drinks cheaper, the crowd louder and drunker, and the bartenders more forgiving—that's the standard formula for a good dive bar and Hanson's seems to apply to all the above.
The stories and anecdotes about Hanson's Bar are numerous and maybe half of them are true. Bar lore consists of tales that grow over time, so many of them have to be taken with a grain of salt. Every old bar usually features a local historian, so when you're in Robinson, try to connect because a true DBT loves cheap drinks and fun, but they also value colorful history too.
So, if you're ever in North Dakota or anywhere near the center of the country, visit Hanson's Bar and hoist a few while sampling a part of U.S. history. Catch a local band or chug a few shots followed by a wide selection of beers and meet the locals—all 37 of them!
Located in: Robinson, North Dakota
Be sure to try: the pizza and an ice cold beer