Ready for a unique experience? Chicago's dive bars offer just that – a charm that can't be replicated! Step into one of these gems and you'll feel like you've gone back in time. Worn-out bar stools, vintage neon signs, and classic rock set the scene.
The people are just as special. You'll find locals who have been regulars for years, talking to strangers. There's a sense of community here you won't find anywhere else. Whether you're looking to meet new people or just enjoy some peace, you'll feel welcome.
And, of course, the drinks. You'll find something to suit your taste buds – from beer to whiskey shots.
So why miss out? These dive bars are a glimpse into Chicago's history and culture. They provide an escape from the polished nightlife scene. Don't miss out on the true essence of Chicago!
What makes a dive bar?
Dive bars are mysterious in their own way. They let patrons escape from the upscale establishments. These havens are authentic and have a dimly lit atmosphere, weathered furnishings and walls adorned with fascinating memorabilia. There is no pretense here. People bond over cheap drinks and talk about anything from politics to pop culture.
Dive bars are known for their impressive selection of reasonably priced beverages. From classic beers on tap to an extensive array of spirits, these places cater to various tastes and preferences. Unlike trendy bars where mixologists craft elaborate concoctions, dive bars offer simplicity without compromising quality or flavor.
What makes dive bars unique is their dedication to tradition and individuality. Each has its own character shaped by years of history and shared stories. Bartenders serve drinks while observing the ever-changing tapestry of human interaction.
At a dive bar named "The Last Call," I saw an amazing moment of compassion. A regular patron in a melancholy state found solace amongst friendly whispers and clinking glasses. His newfound friends offered kind words and heartfelt advice. He emerged from his solitude with hope. This showed that dive bars offer more than just drinking. They are sanctuaries where sorrow and joy coexist.
As night falls and patrons leave, dive bars keep their allure. They are timeless reminders of humanity amidst chaos, providing a haven for all. So, if you want an authentic experience, step into a dive bar and immerse yourself in the soul-stirring ambiance they offer.
The history of best dive bars in Chicago
Chicago's dive bars have a rich history. Unique stories and characters make them a one-of-a-kind experience for locals and tourists.
Over time, these bars have had a major effect on the city's social scene. From being affordable for blue-collar workers to becoming popular places, they're here to stay.
Dive bars have a special emphasis on community. They welcome people from all walks of life. This creates a feeling of friendliness among customers.
These bars also have unique details. A jukebox with classic tunes? Check. Walls with decades-old memorabilia? Check. These features make the dive bar scene so alluring.
I experienced the essence of these bars first-hand. One night, I walked into a place filled with laughter. Vintage posters and neon signs were everywhere. At the bar, I spoke to an elderly man who had been visiting since his youth. He told me about nights spent sipping beer and enjoying live music. Magical!
The best dive bars in Chicago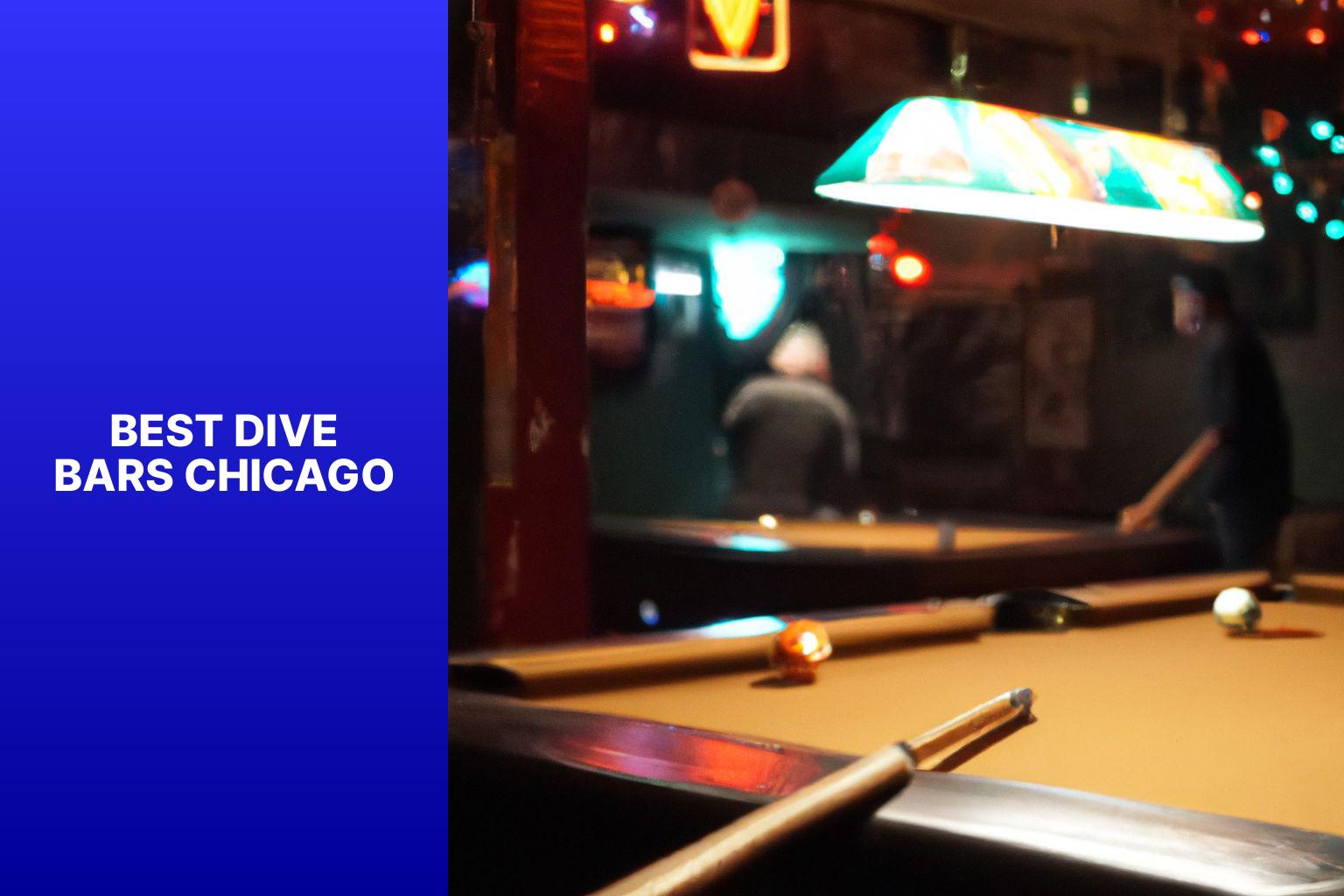 | Rank | Name | Address | Notes |
| --- | --- | --- | --- |
| 1 | The Old Town Ale House | 219 W North Ave, Chicago, IL 60610 | Known for its eclectic wall art and jukebox. |
| 2 | Rossi's Liquors | 412 N State St, Chicago, IL 60654 | A downtown classic with a diverse crowd. |
| 3 | The Green Mill | 4802 N Broadway St, Chicago, IL 60640 | Historic jazz club and former speakeasy. |
| 4 | Nisei Lounge | 3439 N Sheffield Ave, Chicago, IL 60657 | One of the city's oldest bars, opened in 1951. |
| 5 | L&L Tavern | 3207 N Clark St, Chicago, IL 60657 | Known for its quirky history and atmosphere. |
| 6 | Maria's Packaged Goods | 960 W 31st St, Chicago, IL 60608 | A hybrid bar and community space in Bridgeport. |
| 7 | The Hideout | 1354 W Wabansia Ave, Chicago, IL 60642 | A beloved live music venue. |
| 8 | Richard's Bar | 491 N Milwaukee Ave, Chicago, IL 60642 | Known for its no-frills vibe and Sinatra tunes. |
| 9 | Carol's Pub | 4659 N Clark St, Chicago, IL 60640 | A honky-tonk bar known for country music. |
| 10 | Skylark | 2149 S Halsted St, Chicago, IL 60608 | Popular for its PBR special and vintage jukebox. |
Chicago's dive bar scene is a hotbed for hidden gems! From gritty water holes to retro hangouts, you won't want to miss exploring the Windy City.
Like The Empty Bottle in Ukrainian Village with its craft beers and live music. Or Skylark in Pilsen with its red vinyl booths and delicious burgers. Richard's Bar in River West with its neon sign, and Rossi's Liquors vintage vibes and whiskey collection. Estereo in Wicker Park with its tropical theme and fruity cocktails. And Carol's Pub in Uptown for country music and line dancing.
Don't miss out! Take a chance and explore different neighborhoods. Uncover those hidden gems that bring excitement to your Chicago nightlife. Enjoy lively conversations, eclectic tunes, and make memories that will last a lifetime. Grab a friend or go solo – Chicago's dive bars are calling your name.
Dive bar etiquette
To stay respectful in dive bars, keep these tips in mind!
Respect regulars: Show them respect by not intruding on their space. You can even chat if they seem open to it.
Mind your manners: Say please and thank you when ordering drinks. Hold doors open and be mindful of personal space.
Bring cash: Many dive bars are cash-only, so come prepared with cash. This helps avoid any potential complications.
Be aware of noise levels: Have a good time, but don't be too loud. Keep conversations at an appropriate volume.
Order appropriately: Stick to classics like beer, whiskey, or simple mixed drinks.
Tip generously: Show appreciation for their service with a 20% tip.
Also:
Don't rely on cellphones: Don't be too attached to your phone. Enjoy the atmosphere and the people around you.
Don't linger at the bar too long: Give up your spot after finishing your drink. This is courteous and keeps people moving.
Engage in conversation: Strike up conversations with those around you and embrace the community.
By following these guidelines, you can help maintain a positive environment in dive bars and enjoy the authentic dive bar culture.
Conclusion and recommendations
Chicago's best dive bars offer an unforgettable night out! With laid-back atmospheres and affordable prices, these hidden gems are a local favorite.
Check out The Empty Bottle in Ukrainian Village for an intimate setting and diverse live music lineup. Skylark in Pilsen has retro decor and delicious burgers. Alice's Lounge in Avondale offers karaoke nights that attract talented performers and excited revelers. Or, head to Delilah's in Lincoln Park for whiskey connoisseurs and rock 'n' roll vibes.
Don't let FOMO hold you back – gather your friends and explore the city's unique nightlife. Create incredible memories at Chicago's dive bars!
Check out also
Frequently Asked Questions
1. Where can I find the best dive bars in Chicago?
Chicago is known for its vibrant nightlife, and there are plenty of great dive bars to choose from. Some popular options include Delilah's, The Empty Bottle, and Richard's Bar.
2. Are these dive bars affordable?
Yes, one of the most appealing aspects of dive bars is their affordability. You can enjoy a night out without breaking the bank, as many dive bars offer cheap drink specials and reasonably priced food.
3. What kind of atmosphere can I expect at these dive bars?
Dive bars typically have a laid-back and unpretentious atmosphere. You can expect a mix of locals and tourists, friendly bartenders, and a relaxed ambiance where you can kick back and enjoy your drinks.
4. Do these dive bars serve food?
While not all dive bars serve food, many of them offer simple bar snacks or have a kitchen that offers delicious comfort food. It's always a good idea to check the specific dive bar's website or inquire with the staff about their food options.
5. Are these dive bars safe?
As with any establishment, it's essential to be mindful of your surroundings and take necessary precautions. Generally, the dive bars in Chicago are safe, but it's always a good idea to go out with friends and plan your transportation in advance.
6. Can I expect live entertainment at these dive bars?
Many dive bars in Chicago host live entertainment, including local bands, open mic nights, and DJ sets. Check with the specific dive bar's schedule or inquire about upcoming events to experience some live performances while you enjoy your drinks.